This is just a fun trick, a warm up before we start the 2009 modding session with CID53 and A2/db3150 patching and much more 😉 !
The End Result will be a message entry in your Inbox and Sent Messages.  The special thing about this message is that, it will be forever on the top in the Inbox and Sent Messages. If you receive any new messages, they will always be pushed below the first message. So the idea is to stick a warning message on top of your Inbox and Sent Messages section. This will resemble just  like those Stickies messages in forums/boards !!

Its really quite smiple. First you should create a contact by some name, say your own name or any alias you like. In the contact add your own cell phone number. And save the contact. Now change your telephone date to something like 2069 and then go to messages, write a new message, and send the message to yourself, that is send the message to your own handset number. Later change the date back to 2009. This message was sent in 2069, Hence its always on top in sent messages. Also it was received in 2069, since the date in your phone was 2069, it will always be the first message in your inbox. In the message you may want to add a message that you would like others to read. Its pretty obvious all your friends  get your phone and read your inbox. So you may want to add some warning or a funny message in there.
Here are the pictures.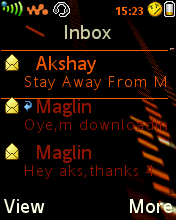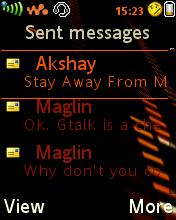 Hv fun.
Akshay.